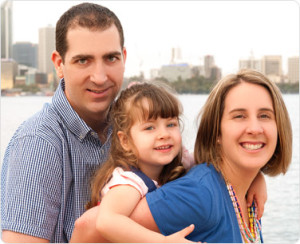 Hello, Janelle Jeffery here!
So you're here because your little one isn't sleeping great? Maybe this has been right from the start, or maybe it's something new? Unfortunately when you're in the eye of the storm it's difficult to know how to find your way out of it. Sleep is complex so unless you understand all the factors behind the troubled sleep, your attempts can often fail. I once sang, "Old MacDonald Had a Farm" for 2 hours straight in the car, trying to get my daughter to sleep. Seriously!
So a little more about me…
1) I learn through my mistakes – and I have made many. Though my own parenting fails I can bring everything I know to help you turn things around without judgment. We can compare notes!
2) I have the experience AND the training enabling me to bring you the best of both worlds. I have trained in America with one of the top sleep consultants, Dana Obleman from Sleep Sense, and I am an active member of the Association of Professional Sleep Consultants where I engage in updated and ongoing professional learning.
3) I am 100% on this journey with you. I will be your coach and your cheerleader.
4) I love sleep more than I love chocolate. A pretty bold statement but true. If offered a night of solid sleep or a year's worth of chocolate – the clear winner would be sleep.
5) As a professional child educator for over a decade, I see the ramifications of sleep deprivation on a child's capacity to learn, their behaviour, physical development and emotional well-being. My dream is for all children to have the opportunity to have the best sleep possible. How amazing would that be?
As a sleep deprived mum myself my daughter and I have been on quite the sleep journey together. Read more about my personal journey here.
What's your plan now?
Are you ready for change? No really, are you ready? Change is never easy so being prepared to go the hard yards is crucial for success. I do not offer quick fixes but I will offer you a holistic approach for long-term sleep success. So, what are you waiting for?